Hillingdon Slipstreamers Blitz Cyclepark in Kent ?>
Hillingdon Slipstreamers Blitz Cyclepark in Kent
Dateline Friday 27th April. Harvey Tadman in the under 8's race took a fine 2nd place while Harry Tadman sprinted to a comfortable win out of 40 riders in the under 12's race and in a very competitive under 14's event Charles Paige gained his 3rd win of the season
These riders have been representing "Hillingdon Slipstreamers" cycling team around the Country and so far in 2012 have gained 27 victory's. As well as racing at the new Cyclepark, they have travelled to Milton Keynes, Portsmouth,Thruxton and Hog Hill (Essex).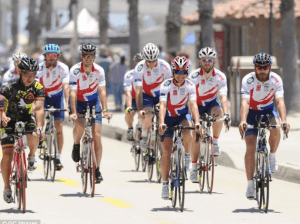 Our "Home" circuit is Minet Park, Springbridge Road,Hayes where races take part most Saturday afternoons and from May on Tuesday evenings around 6.30
Following Hillingdon Slipsteamers dominance of races at Cyclepark,Gravesend on Friday night, the success story continued at Milton Keynes on Saturday. In the boys Under 8 category Harvey Tadman scored his 13th win of the season, Finishing 20 seconds ahead of the next rider.
Not to be outshone by his brother, Harry Tadman won the Under 12 category,His 16th win of the season, beating a 20 up bunch with a powerful attack in the last kilometre.
In the under 14 race Louis Rose-davies finished 4th in a blanket finish, but the ride of the day was Harriet Mellor winning the under14 girls, beating most of the boys in their "Joint event" Emily B???? despite "Cramping up" was the 2nd best girl in what was a vey hard race!
All the "Pre-season" training at their base at Minet Park, Hayes is paying dividends, Hillingdon Slipstreamers are becoming the most feared squad in the country.
Come and see us…Tuesday nights 6.45pm